We have created a reverse background stamp this year and I have been having a great time making samples to show you how to use it! There are so many ways to use this stamp and each is so different than the next.
The first one starts with a black piece of card stock inked up entirely with gold pigment ink, I then used Pearl Ex powder to colour the flowers and leaves in. Just using a dry paint brush I picked up the mica powder and dusted it onto the flowers, and since the pigment ink is still wet it holds the powder.
Number two is a completed card. I used distress inks, the minis to colour the flowers and leaves and just before stamping, spritzed it with water so the colour bled into each other. I used Picked Raspberry, Mustard Seed, Pine Needles, Peacock Feathers, and Wild Honey. Stamped our Je'taime on a tag, added a heart gem, wound some bakers twine and bound it with a yellow brad to finish it off.
Number three is also a completed card that was done on glossy paper using distress inks applied with an ink blending tool. I used Mustard Seed, Spun Sugar, Broken China. I trimmed the panel into 5 pieces and ran a gold marker around each piece before matting it onto some pink card stock and then onto gold textured paper and finally onto a white card.
Number four starts on a piece of white card stock, I used 4 colours of distress ink randomly applied to the card stock, then I inked up our script background stamp with black ink and stamped that over top of the coloured paper. Then I inked up the reverse garden background stamp completely with clear Versamark ink and stamped on top of the coloured paper, then heat embossed with clear embossing powder. Using an ink blending tool, I rubbed Black Soot distress ink over top of the whole paper, highlighting the lines of the flowers and leaves. To finish, wipe any excess black ink off the top of the embossed image.
I think number five is one of my favourites, and one of the easiest. I inked up the garden background with several colours from the Metallic Brocade Petal Point ink, and stamped onto a piece of white cardstock. Then I heat embossed it with clear embossing powder, and you're done, so pretty!
Number six, starts with a piece of mauve card stock. I inked up the garden background with clear Versamark ink and heat embossed with clear embossing powder. Using an ink blending tool I applied Seedless Preserves Distress ink to highlight the lines of the image.
Number seven is done on glossy card stock, using distress markers. colouring the flowers and leaves with several colours and just stamping onto the glossy paper. The distress inks work beautifully with this paper, just melts right in. I should add that almost of these cards are done by placing the stamp on the table and placing the paper on top of the stamp and gently rubbing over top to get good coverage.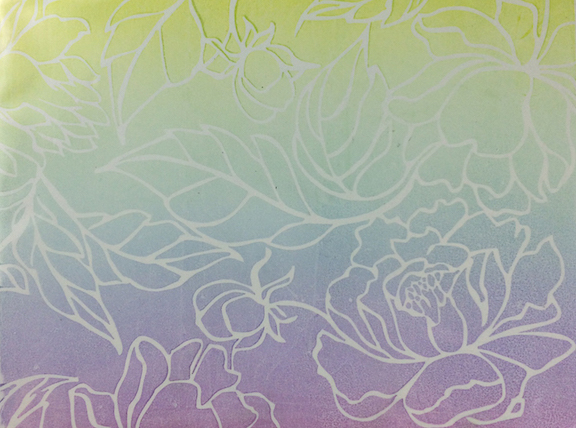 Number eight is also done on glossy  cardstock. I inked up a brayer with 3 colours and then rolled the ink onto the garden background stamp, and then stamped onto the card stock.
Number nine was done on regular white card stock, with 4 colours of distress inks. Inks added loosely over the garden background and spritzed with water before stamping onto the paper. Trimmed with Fiskars decorative scissors.
Last but not least number ten is quite impressive, and the most simple yet! I started with a textured piece of navy cardstock. Inked with silver pigment ink, and stamped onto the cardstock. The image shows up beautifully, as well as the texture of the paper through the silver ink.